Bootcamps
2023 Bootcamps - Registration now open
AUArts School of Continuing Education and Professional Development funded by RBC Future Launch is thrilled to offer a series of new skills-based Bootcamps
Our sponsor, RBC Futures, will allow us to provide these camps for FREE to AUArts full or part-time students, alumni, and community members.
Complement your education and build your skills portfolio with our short burst, one to three-hour Bootcamps, delivered by experts in their field. Take one or as many as you'd like!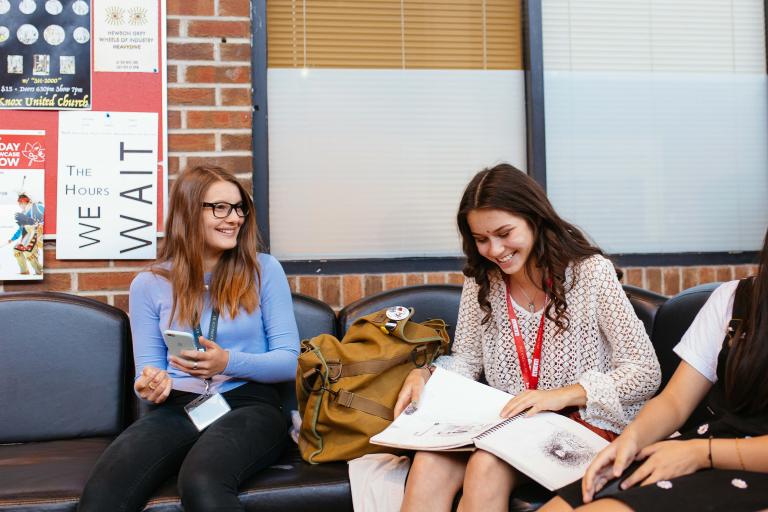 Bootcamp Listings
Through the use of strategic and human-centered design frameworks, Groundfloor Labs has identified areas for enhancing collaboration within AUArts ecosystem while simultaneously generating offerings tailored to reduce barriers for entrepreneurs, specifically to Underrepresented Groups.
"Ground Floor Labs also focuses on the involvement of the post-secondary institutions in connecting research and industry, driving the conversations and exposure of leading innovations now being supported throughout the region. Our skills, experience, and ability to produce outcomes could be an asset to developing the beginnings of entrepreneurial programming at Alberta University of the Arts."
Bootcamp Name

Dates

Day & Time

May 2: Online via Teams

Tuesday: 1:00 - 2:00pm

Does it feel like everyone is getting their dream job and you can't even get a callback? Well, it may be time to start developing your networking skills. If it feels like people are getting ahead based on connections, it is time to start building meaningful professional relationships too. In this session, we will look at strategies guaranteed to improve your job-seeking experience and better position yourself for the job you want. Over one-hour we will establish and develop your professional network while leveraging your existing personal connections to maximize your professional plans. 

May 9: Online via Teams

Tuesday: 1:00 - 2:00pm

Develop your personal brand and differentiate yourself from others in your professional growth. Highlight your best attributes to stand out and know your value proposition in a situation to sell it!

May 16: Online via Teams

Tuesday: 1:00 - 2:00pm

Learn how to talk about yourself without sounding boastful. Discuss your work history, narrate your potential impact, and secure successful outcomes in interviews, pitching or any circumstance where you are trying to highlight your value.

May 3: Online via Teams

Wednesday: 1:00 - 2:00pm

Develop a network to help you land your dream job. Review how LinkedIn and your existing network might be all the leverage you need.

May 10: Online via Teams

Wednesdays: 1:00 - 2:00pm

Develop a professional brand that reflects your skills, talents, and personality. Strike a balance between professional and personal brands and highlight your aptitude for design.

May 17: Online via Teams

Wednesdays: 1:00 - 2:00pm

Learn appropriate strategies for discussing yourself, your accomplishments and your experiences in ways that translate the needs and wants of a potential new employer.

May 23: Online via Teams

Tuesdays: 1:00 - 2:00pm

Learn how to translate your skillset to your resume. Understand what skills will prove helpful, which skills are desirable, and how to demonstrate your skillset in a standout manner.
Designed to complement your AUArts degree programs, each Bootcamp provides specific skills needed by artists to find a job, succeed in the workplace, or flourish as a freelancer. Spend minimal time picking up skills that will stick with you throughout your career. 
Developed by Alberta University of the Arts School of Continuing Education and Professional Development.
Bootcamp Name

Description

Online Marketing

Gain an understanding of the principles and tactics in online retail marketing and work through the components required to launch a successful online business.

Spend time generating and visualizing ideas, as you work with other participants, and grow an understanding of online retail marketing skills. 

Personal Branding

Learn how to create a personal brand to help you achieve your professional goals. Start by identifying your career vision and setting SMART career goals to assist you in defining your brand; your values and personal qualities.

Social Media Strategies

Learn about the latest trends in the social media landscape and how to optimize content for each platform. 

E-commerce

Understand the key elements needed to build a professional and functional e-commerce website. Participate in relevant activities, including generating and visualizing ideas, conducting basic research, and receive hands-on instruction as you work through the steps required to launch an effective e-commerce site. You will gain valuable insights that go into planning and pricing for success online, whether you are selling a product or a service.

Energize your Job Search 

Invigorate your job search with tangible strategies to support your efforts. From reflecting inward to reaching outward, this collection of ideas with help propel your job hunt forward, and assist you to identify – and ultimately land your perfect job!

Create a Webspace

Knowing how to build a page is a valuable skill in today's daily use of digital platforms. Learn the essential skills and tools, i.e software, frameworks and online services, to build a basic website and be introduced to the minimum coding requirements to create a responsive webpage rendered by a browser to get your business into the online domain. 

Resume Building

In an ever-competitive market it's imperative that your application is stand-out amongst the rest! Part of the application process is submitting a genuine, eye catching and relevant resume. Discuss how to frame your thinking about your experiences to date, and through practical exercises craft this into resume content.

Time Management Mastery

Time management begins with knowing what is most important to you. What do you hope to accomplish in a day, and how much are you taking on? Once you uncover the answers to these questions, dig deeper into strategies and tools that will help you take control of your time and achieve your most important goals. 

Search Engine Optimization

Understanding SEO can help you grow your business by getting the best search engine ranking possible.

Learn different techniques to improve and maintain your website's ranking, including keywords, optimizing content and images for your site, and making your website mobile friendly. 

Stress Management Strategies

Stress is a natural and healthy reaction to experiences we have every day, but when it begins to consume us, it's time to make a change. Explore what stress is and the many ways it might show up in your life. Learn some strategies to help you manage the many stressors you may come across so you can control your stress, not let it control you. You'll leave feeling equipped to handle the days and weeks ahead and have a collection of tools to support you for years to come. 

Job Searching 101

There's a lot of competition out there and your interview needs to be strong to get you the job! Part of the job searching process is being authentic, professional and demonstrating your relevant experience in an interview. 

Learn how to structure your thinking about your experience to date, and participate in some in-class exercises to polish your interview skills to equip you with the tools and knowledge to get ready to deliver your best interview.

Having the Courage to Fail

Many of us are taught that failure is something to avoid, but in reality, it's quite the opposite. Explore how failure can actually be used to help you learn and excel. Explore famous failures, the consequences of not failing, and learn how to fail forward. Once you realize that this is in fact a benefit to you, you'll be able to keep moving forward toward your goals in a more meaningful way. 

Business Etiquette and Culture

Discuss how to develop a personal code of conduct and standard of actions in your chosen industry. You will take part in activities that are centered around common protocols, inclusive environments, and empathetic relationships. You will also learn communication methods, professionalism, relationship building and ethics in business.
Supported by RBC

Sign up for our newsletter to receive the latest updates on course offerings, special offers, and registration deadlines.
What's next
Register
Register for a bootcamp and complement your education.
Register here
Stay connected
Our facebook page is updated weekly with news, updates, deals, and more.
Check us out