2019 Alumni Legacy Award


 
INTERVIEW BY KERRY MAGUIRE, BFA '18 
KERRY MAGUIRE: Where are you right now? It looks beautiful.
EVELINE KOLIJN: It's my parent's place in the Dutch Caribbean, on the island of Curaçao. They are actually selling it right now to downsize. I don't have a lot of time to enjoy it on this trip because there's a lot to do. But look at the beautiful view! It's also dusk, so I might have to swat a few mosquitos.
MAGUIRE: Congratulations on receiving the Alumni Legacy Award!
KOLIJN: Yes, thank you! That was really a surprise.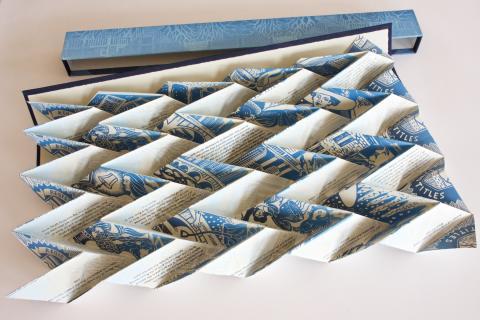 Deep Cold on 11a (2018), linocut and photopolymer relief on folded BFK Rives paper. One folded page, 80 x 64 cm. Edition of 8, of which 4 with extra book box cover and slipcase, 64 x 6.5 x 3 cm.
MAGUIRE: How did you end up as a student at AUArts?
KOLIJN: I guess it was sort of me giving in to something that I always wanted to be. Art for me has always been making things, whatever it was, from fun little projects to more serious drawings and undertakings. I always had ideas and concepts that I wanted to express.
My husband and I moved to Calgary in 2001. Four years prior we had immigrated to Canada from the Netherlands. By the time we moved to Calgary my two children were older; they were in high school. I felt it was the perfect time to do something more than fixing up things for my family. However important and enjoyable that was, I was looking around for other options.
I had the issue that many immigrants have, which is that I would have had to re-train to continue with my previous career, and I had a bit of a spotty resume at that. I started to look around, and saw that I would have had to go back to school to do almost anything, for example to work in education. Instead, I did a summer course for credit at AUArts. After I completed it, my husband said, "You know what? Why don't you acutally go to art school… it's something you've always wanted to do." And I did!
MAGUIRE: What sort of change, growth or development as an artist did you undergo at AUArts? Did you do what you thought you would do, or did your vision of what you wanted to do change a lot while you were there?
KOLIJN: Oh, it changed a lot. Before, I was what you would call a self-taught artist. I already had developed skills in certain areas, but I really do think that AUArts was important in my development as an artist for two reasons. What you learn there, on the one hand, is the business aspect of being an artist: writing your grant applications, how to apply for opportunities... basically how you organize the admin side of your practice.
The other important part is learning how to write your artist statement. Basically, analyzing what it is that drives you, what inspires you, what you want to express in your work and how you can go outside of your comfort zone to try these things. You learn how to create a body of work that fits you and expresses your voice.
This all coincided with my parents settling back here in the Dutch Caribbean — to the beautiful view you saw. I went to high school here. Coming back, I saw the tremendously diminished coral reefs. Immediately, that triggered in me the drive to pursue another career or research option I had never studied: marine biology. So, I guess I was thinking about what I wanted to express as an artist, and at the same time these things from my childhood that I loved — coral, reefs, and marine life and seeing how the ecosystems were perishing under environmental stress. It made me want to research that as well, and it fed into my practice. I don't think it would have happened in that manner if I had kept along doing my self-taught practice.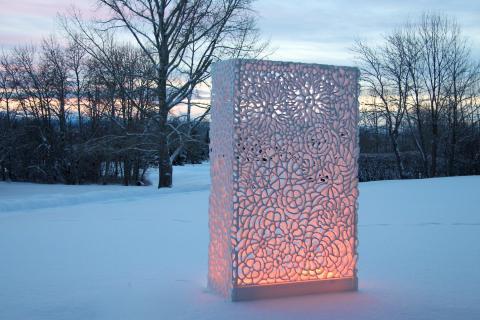 Bleached Coral Colour Infusion (2013), handcut Styrofoam panels, plexiglas, multicolor LED lighting, 105 x 65 x 10 cm
That was actually one of my main reasons for joining AUArts. As nice as community-oriented art classes can be, I wanted more. My first AUArts class was taught by Richard Brown, who is an amazing instructor. I thought, "Oh, wow. This is what I've been looking for."
MAGUIRE: What has your creative life or artistic practice looked like since you graduated?
KOLIJN: Pretty amazing! With the decision to go to AUArts, I also decided that being an artist wasn't an overblown hobby I couldn't live without; instead, I took a conscious step to treat it as my profession. Having previously sacrificed some of my own ambitions for the sake of my family, this time I was going to do what I wanted. My husband and family were very supportive.
MAGUIRE: What specific projects are you working on right now?
KOLIJN: A very exciting one. I just showed a project at EMMEDIA called Ocean Inside. It was a film shot, edited and produced by me. It was projected on to a hand-printed veil; it talks about the ocean and marine biology, and how we as humans are connected to the sea. The first time I showed this work was at the IMPACT 10 international printmaking conference in Spain, where I also presented a paper entitled "Printmaking in the Anthropocene." There, I learned that the Southern Graphics International conference of 2020 would be in Puerto Rico, which is in the Caribbean, a perfect location for my work. This is the largest printmaking conference in the world.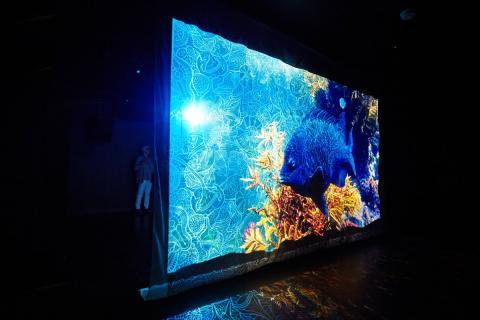 Ocean Inside (2019), installation view, video projection on Linoprint with mica on polyester voile, 245 x 420 cm. Image credit: EMMEDIA.
For that upcoming conference, I've curated an international print project called Tidalectics, wherein I invited 10 international printmakers that will all work around a theme of marine biology. I have contacts here on the island of Curaçao at the Marine Biology Institute. The director shared contacts with some of his colleagues, and so I was able to link up each artist with a marine biologist. The artists will make a print based on the biologist's research, and the biologist will write a one page text that I will letterpress. So basically, I am curating, producing and participating in this marine biology print portfolio for April 2020 that will be shown at the conference in Puerto Rico.
I recently participated in the Print(ED) Word project, a collaboration between 12 artists from Alberta Printmakers and 12 writers/poets connected to Loft 112. I was teamed up with Aritha van Herk. The resulting bookworks were bought by the MacLachlan Foundation and donated to the New Central Library in Calgary, where they are on permanent display on the fourth floor in one of the alcoves of the reading room. In the past year, each writer/artist team has presented monthly on the project in the library and a video on the project is currently in production and will be released next January.
MAGUIRE: It sounds like you work in a very interdisciplinary fashion.
KOLIJN: My work always revolves around a printmaking core, but I don't often just make prints on paper; I have everything from light installations to video.
MAGUIRE: Do you have any advice for students that are about to graduate, or have recently graduated?
KOLIJN: I do! Keep trying, keep your art practice alive even though it may be difficult to do so.
If you don't have time to [make art], if life swallows you up and you just need to worry about keeping a roof over your head, that's okay! You're never too old to pick it up again; there's no break that's too long. I went back to school when I was 40. You will never grow out of it. You can always get back to art-making, and you always should.
And go for every opportunity you can get. Some opportunities I wasn't initially that sure of have been good for me because they've connected me with other people, giving me a follow-up opportunity I would have never had if I hadn't committed to the first opportunity. In some situations, I wasn't sure if I wanted to do the first thing, but what grew out of it was amazing. With every new opportunity you get experience, and then with that experience you are better equipped to go for opportunities that you really really want to get.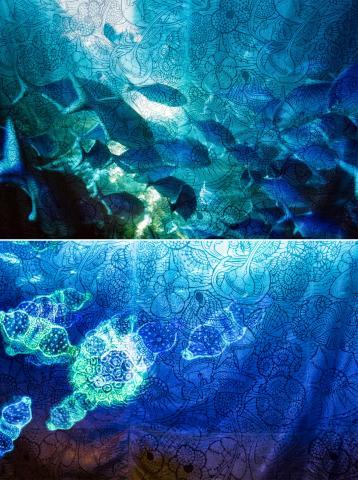 Ocean Inside (2019), video stills, video projection on Linoprint with mica on polyester voile, 245 x 420 cm
If you apply for things you really want to get and you don't, think about it this way… there are ways to target your energy. Some applications you write might seem like a sure thing, but there are ways to target your energy to "sure things" while targeting to opportunities that seem a little out of reach. If you get those out-of-reach ones, that's really a good way to grow.
MAGUIRE: What does a day in your life look like?
KOLIJN: I usually don't get very active before 9:30 a.m.. I do a lot of writing and admin in the morning. I do more creative things — sketching, drawing, trying to find reference images, researching and finding readings — in the afternoon. I also spend a fair amount of time going to Alberta Printmakers. I am also on quite a few boards of organizations and artist-run centres in Calgary.
My studio practice isn't very structured. I don't have a very rigorous routine; it's dictated by each project that I do. Sometimes I am trying to get a print done and will be working on it every day for 2 weeks, and sometimes I have a month where I don't draw anything at all because there will be other projects that I am working on.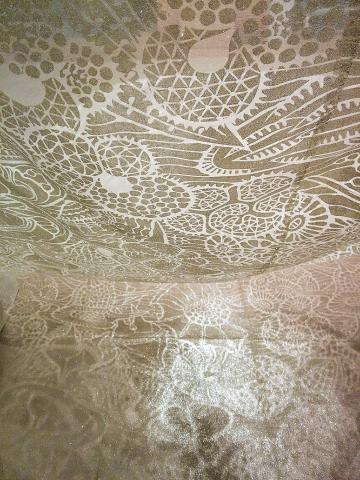 Ocean Inside, (2018) Details of printed Ocean Inside projection veil, linoprint with mica on polyester voile, 245 x 420 cm
MAGUIRE: What do you think the value of a creative education is?
KOLIJN: I think it's incredibly important, especially in this day and age with challenges like climate change. We live in a very fast-paced society, and there are tons of changes. I think the whole world is feeling that we are living in a shifting time, a time of changes. There are coming fundamental paradigm shifts in the way we live; we are going into uncharted territory. You need creativity to deal with this. I think creative professions really have a role to play now. It's always hard to put a finger on what exactly that will be, because it's so fluid. We've boxed ourselves into some pretty big conundrums in our society, and we need solutions. I think the creative professions are creatively important, even if I can't say in what manner they will be important.
>>> Meet other Alumni Awards recipients
Eveline's Instagram
Connect