Graduate
Master's degree
The MFA in Craft Media centres craft as a medium for conceptual exploration and critical dialogue through embodied material practices. You will be challenged to approach form, function, labour, skill, modes of production, materiality, modes of communication, and other theoretical investigations in a collaborative, cross-disciplinary, studio-based program that creatively evaluates and pushes at the boundaries of contemporary craft.
The experience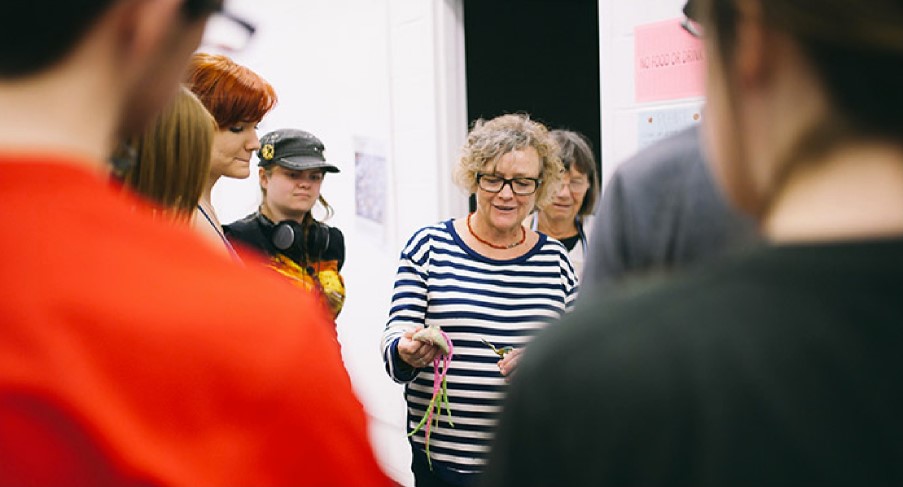 Students enjoy an immersive learning environment with plenty of opportunities to experiment with materials, engage with ideas, and be challenged to push the boundaries of what is possible as they generate and apply original knowledge.  
Small class sizes encourage interaction with and mentorship by exceptional faculty who are master practitioners and respected scholars.
Robust rosters of visiting artists, dedicated studio technicians, a specialty library, and the renowned Illingworth Kerr Gallery ensure students have a rich learning environment and lots of support.
Additional graduate faculty
Richard Brown, Bryan Cera, Richard Clements, Miruna Dragan, Heather Huston, Laurel Johannesson, Mitch Kern, Dr. Alex Link, Rita McKeough, Mireille Perron (Professor Emeritus), Dr. Jennifer Salahub (Professor Emeritus), Dr. Ashley Scarlett, Justin Waddell and Dr. Yoke-Sum Wong. 
MFA faculty portraits by John Gaucher and Brent Smith. 
The program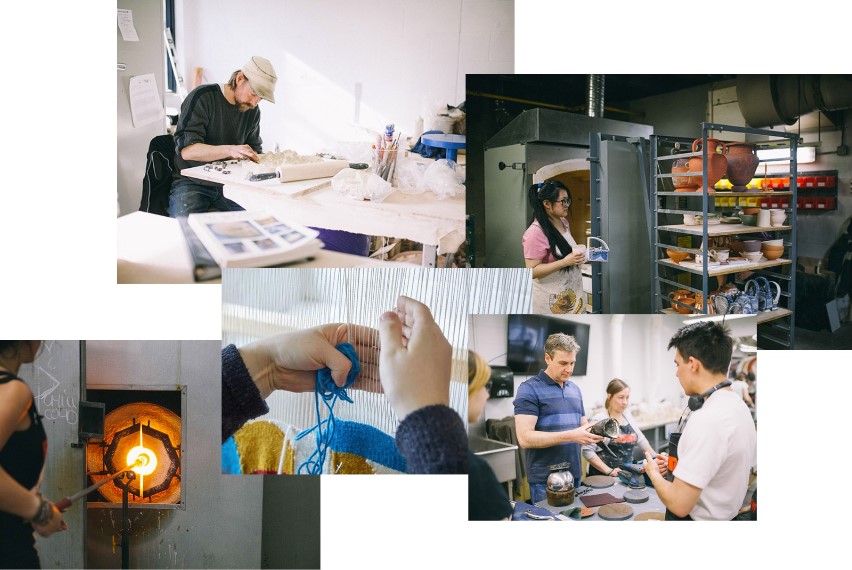 Designed as a 20-month residency, the program has some flexibility in spring and summer semesters for off-campus, credit-fulfilling activity (such as national/international workshops and travel residencies), with approval by the Office of Research and Graduate Studies.
The core of the program is practice-led, autonomous research. Students may concentrate upon a specific discipline: Ceramics, Fibre, Glass or Jewellery and Metals, or they may augment their primary craft discipline to build an interdisciplinary or hybrid program of study.  During the course of their study, students may initiate mentorships with faculty from AUArts' other program areas, such as Print Media, Drawing, Media Arts and Design.
Courses in craft history, theory, research, and professional practice (pedagogy), underpin the intense studio practice.  Students will propose an Individual Plan of Study and Research (IPSR), outlining a personal vision and level of critical and innovative thinking to position them as future leaders in their chose fields.
Learn more about the structure and content of the MFA program. 
Please contact The Research + Graduate Studies Office (RGSO) for further information.
The faculty
Led by critically acclaimed, practicing artists, students enjoy unparalleled mentorship, inspiration, and support in this exciting, intensive graduate program.