2019 Alumni Horizon Award
 
INTERVIEW BY KERRY MAGUIRE, BFA '18 
Kerry Maguire: Why did you go to art school?
Jennie Vallis: I went to art school because I wanted to always be creating and using my imagination everyday. When I came for a tour of AUArts during high school I was mesmerized with all the art on every surface and the creative life at the campus and wanted to be a part of it. I wanted to be trained both technically and conceptually and be surrounded by a community of artists to collaborate and critique together.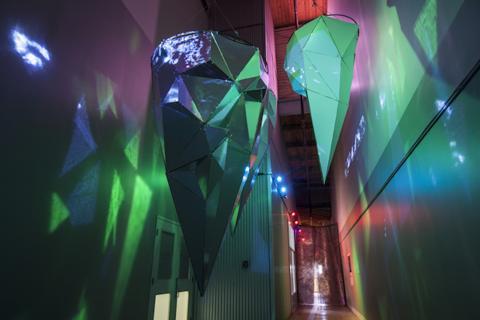 Passages by Studio Cartel
MAGUIRE: When did you graduate from AUArts? From what program? Is this what you had initially decided to do, or did it change over time?
VALLIS: I finished my classes in December of 2010 so I graduated with the class of 2011 from the Media Arts and Digital Technologies Program, I was also the Board of Governors award winner for my department.
And no, I originally thought I wanted to do photography or visual communication but after my first year VisCom classes I decided I liked the Fine Arts program more. I never would have imagined I would have ended up in MADT because I wasn't even interested in technology or digital mediums before taking my first MADT class.
MAGUIRE: What kind of learning, growth, or ideas started to happen while you were at AUArts?
VALLIS: My entire time at AUArts was a time of continuous growth and making as I was immersed in looking, creating and critiquing everyday. It opened up so many mediums I had never worked with before and a large community of collaborators and artists to bounce ideas around with.  I really started to explore interactive media and immersive artworks during my studies at AU arts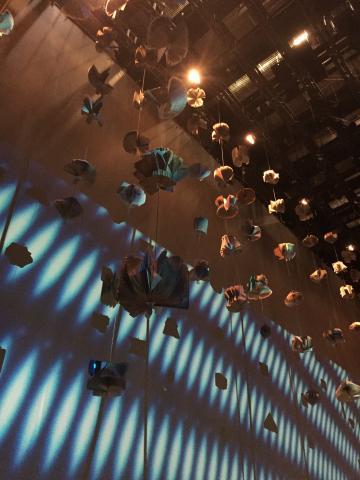 Detail of Fihi Ma Fihi show by La Caravan Dance Theatre, 2016. Listen to an interview about this show with Vallis on CJSW 90.9 FM.
MAGUIRE: What has your creative life/practice looked like since graduation?
VALLIS: It's been really busy and spanning across lots of different disciplines. I started out in a festival programming position but moved into both technical and educational coordination for some artist-run centres and theatre companies, before creative directing and co-founding Studio Cartel from 2012-2017. I've also been collaborating with theatre companies, festivals, dance companies and other artists in a range of projects and exhibitions. In the last few years, BeatRoute Magazine was a big part of my creative output as art director for the magazine (until early 2019) connecting with the local music community and showcasing the growing arts and culture industry through a visual medium. In summer 2019 I  began my MFA at Emily Carr in addition to my work at the Glenbow Museum. Big Kitty is an ongoing endeavour as it's always growing in membership, locations and projects. Currently my time is spread between my MFA studies, the Glenbow and directing a creative agency.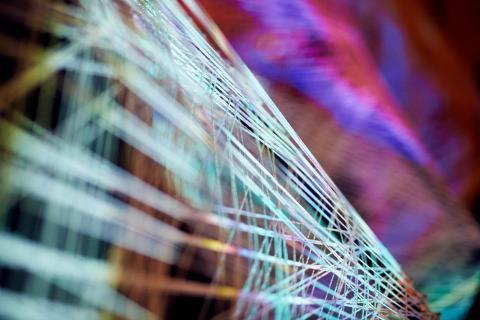 Fractale, live performance at Particle + Wave, 2015
MAGUIRE: What advice do you have for recent alumni just beginning their post AUArts path?
VALLIS: Trust your visual literacy, value honest critiques and don't be afraid to apply for opportunities even if they seem far-fetched, because sometimes they're just waiting to work with someone like you.
MAGUIRE: What have you brought from AUArts to your live and career after school?
VALLIS: So much! I am still connected to so many of my classmates, professors and technicians from my time at AUArts and we collaborate, connect and support each other. The discipline and constant drive for creating work really makes AUArts different from other schools I've noticed (I'm now a MFA student at ECUAD). Doing weekly critiques in every class and constantly making, rethinking and conceptualizing. Building a solid conceptual framework for my art practice has been critical in my success.
MAGUIRE: How do you feel about receiving an Alumni Award? What crossed your mind when you first found out you were receiving an alumni award?
VALLIS: I was very honoured and excited to receive an Alumni Award as AUArts was such an important part of my creative development. And it's so great to reconnect with the school and see what's happening on the campus now and all the recent changes.
MAGUIRE: What does a day in your life look like?
VALLIS: It's always different, which keeps it exciting. Quite often I'll be teaching at the Glenbow Museum, working with school groups in the day, exploring artifacts. Most days I usually end up at my downtown studio at some point, where I have meetings with clients and collaborative art jams. But sometimes I'm teaching in CBE or CCSD schools as an artist-in-residence or working on a movie or television set in special effects. I also spend quite a bit of time digging and searching for props, materials etc.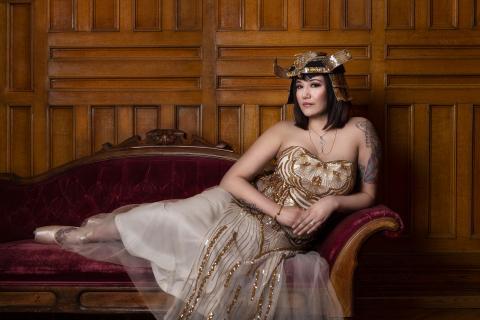 From the Nine Lives: Changing Notions of Femininity Through Time exhibit by Big Kitty at the Lougheed House, 2019
At night I'm usually out at live shows or events or relaxing at home with my husband Josh, dog Dahlia and cats Onyx and Soma.
MAGUIRE: Why, especially now, does a creative education and art/design matter?
VALLIS: A creative education is important because it  teaches visual literacy and challenges you to continuously explore, inquire and create. Training your mind to think beyond the societal norms and how to creatively tackle challenges and solve problems unconventionally. It also opens up different perceptions of understanding and seeing things from multiple perspectives.
MAGUIRE:  How does inspiration work in your art practice?
VALLIS: I don't know how anyone separates their practice from their life because mine is so intertwined. I'm constantly collecting inspirations and references in every form- between digital folders and boards, to collaging my walls in my basement and books filled with drawings/clippings. Collaboration and teaching is such a big part of my practice as well, so I'm always being inspired by people around me.
MAGUIRE:  What do you hope to be recognized for?  
VALLIS: I hope to be recognized for my diverse, multidisciplinary art practice and ability to apply my creativity in unconventional ways and collaborations. Also my mentorship and community impact with Big Kitty as I really believe in the importance in creating equity and opportunity for female-identifying creatives.
>>> Meet other Alumni Awards recipients