Tasha Barrie, BDes '12 | Photography & Lauren Yuriko Plante, BFA '13 | Fibre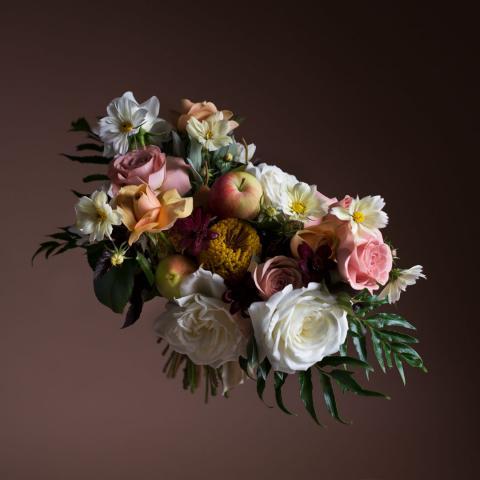 Photo provided by Foxglove

AUArts: Who are Tasha Barrie & Lauren Yuriko Plante? 
Tasha Barrie & Lauren Yuriko Plante: We are two creative individuals and kindred spirits who represent / Co-Own Foxglove Studio!
AUArts: What have you been up to since graduating from AUArts? 
Barrie: Oh my, plenty! After graduating, I followed my heart to France where I spent a year navigating life as an expat. I took portraits of French women I met who both welcomed and inspired me and contemplated where I wanted to take my art practice. When I returned to Calgary I meandered, exploring therapeutic photography, which took me back across the pond a few times for workshops in London UK with PhotoVoice. Eventually I found myself gravitating towards working with flowers again, a habit that I haven't been able to kick ever since I started working in flower shops at 14. I soon connected with Lauren (a longtime friend) and eventually we joined forces to build a creative studio called Foxglove. Our aim was to combine all of our passions in a practical and sustainable way. Slowly the studio began to develop and our work with flowers took centre stage. That was five years ago, now Foxglove has a life of its own!
Plante: Life after AUArts has been a fascinating whirlwind! Incorporating techniques, skills and knowledge I have gained during my years at AUArts, I began designing flowers for shops around Calgary and wedding companies. I also started a small textile business creating Japanese inspired traditional wear which I continue to experiment with. About five years ago, I connected with Tasha, and Foxglove Studio was born. Through a shared passion for all our loves - botanicals, art, and design, Foxglove continues to grow and evolve. I also married a wonderful, supportive person and we have had the opportunity to travel to numerous, inspiring places together. 
AUArts: What do you consider your greatest achievement or accomplishment so far?  
Barrie: Foxglove! The fact that we created this thing that didn't exist before, that we built it from nothing but ideas and passion and it's working! That in just five years our studio grew into a business that could sustain us full-time, I'm proud of that. 
Plante: Foxglove is also my greatest achievement and has evolved into something far greater than any of my expectations. Being a business owner challenges what you think you know about yourself, and as a result, forces you to grow in ways you never expected. There are a couple of events that will always stand out for me. In 2018, we created the floral designs for an event Michelle Obama hosted in Calgary. We also had the opportunity to create Mexican inspired pieces for Cirque du Soleil this past year. Being able to work with such inspiring people and companies is hugely gratifying.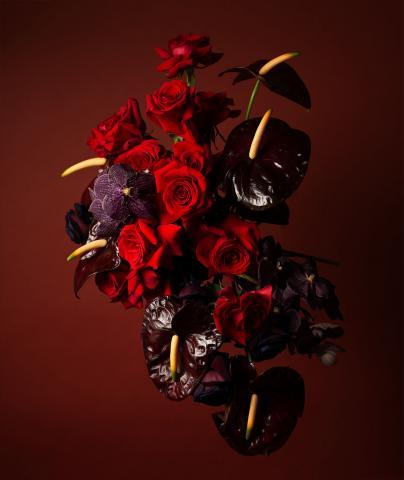 Photo provided by Foxglove
AUArts: What setbacks have you had along the way and what did you learn from them? 
Barrie: In the first few years of building Foxglove, as with many new businesses, we couldn't pay ourselves. Everything we made went back into building the business. We were committed full-time to Foxglove, but still had to maintain and reserve time and energy to do other jobs until Foxglove was somewhat established. We made many sacrifices and it was entirely exhausting, but I now have a strong sense of my own capabilities, endurance, resourcefulness, and determination. Going through that also taught me the importance of self-care. Remember, your business or practice can't exist without you! 
Plante: Navigating a business has been a huge learning curve. The first few years were full of financial and emotional set-backs — not to mention sacrifice in our personal lives. Each year had extreme highs and lows. We have learned so much from these experiences. Not only about dealing with the business side — working with clients, writing up proposals, handling the finances, but also devoting ourselves to a work-life balance and checking in with each other to acknowledge when either one of us is having a hard time. It is so important to have a strong support system. 
AUArts: How have you been challenged to see the world differently?
Barrie: I'm very cynical by nature, self-critical and have pessimistic tendencies. Usually, I see the world through a dark lens. Flowers and photography have taught me how to interact with and take notice of, the light and beauty around me. I've discovered and reveled in the perfection that lies within imperfection, through my work with a natural thing (flowers). In designing and building with perishable living materials you learn to appreciate and see life, death and dying in a different way. There is beauty and meaning in every stage if one is willing to look closely. 
Plante: AUArts had a considerable impact on how I see the world. It gave me the mental training to question things I don't understand as well as become a critical thinker. In my experience, creative people tend to see the world with a more open mind. And with an open mind, one is challenged to see other people, and be more accepting of their views and culture. 
AUArts: In your opinion, why is art, craft, design, and creativity in general, so important to the world today and our future?
Barrie: Creativity is what makes life meaningful and vibrant. Art is insightful and revealing. It can educate, inspire, or shock us into viewing the world through different perspectives. Design is the language that ties our visual world together, it gives everything around us form, purpose and beauty. Craft I think, delicately holds, and preserves history. Stories are passed from generations to generations through the transfer of skills. Craft documents our evolution and reminds us of the value of people and tradition. I think creativity is the basis for curiosity and innovation, and the world needs innovators more than ever right now!
Plante: I think historically art has been a way of preserving time through imagery. An account of how one existed and experienced life in a particular place and time. Art, craft, design all tell a story. It can be the most accurate depiction of one's self. It's so important because it can influence society, instill values, and render experiences across cultures. Today, art, craft and design gives people a voice to communicate their social, cultural, and political ideologies. It helps inspire and connect communities across the world, creates an environment for understanding and emotional acknowledgement, and even inspire a rally for change. 
Photo provided by Foxglove
AUArts: What inspires and motivates you? 
Barrie: Nature inspires me, as well as music and literature. My curiosities motivate me to create and experiment. 
Plante: In the last few years, there has been a shift in floral design. It has become more art and concept based. I am inspired by so many florists around the world who are continually pushing the limits of design. The Japanese culture has also been a motivating factor in my art and floral practices. The minimalist, yet striking compositions are something I strive for in my designs. I have been so lucky to be continually surrounded by artists and designers who inspire me. This, in conjunction with my family and friend's undying support, keeps me motivated to constantly push forward. 
AUArts: What do you believe are three personal characteristics that contribute to success as an artist?
Barrie: Self-Belief, Endurance, Curiosity 
Plante: I think to each person, success is defined differently. The successes I have found in my ongoing journey are firstly, a passion for your craft; secondly, a good work ethic is essential (I definitely believe I learned this from my time at AUArts); and lastly a strong will. I am still continually working on this skill. As an artist and entrepreneur, there has been many moments of stress, anxiety, and self-doubt. 
AUArts: Do you have a motto or a rule of thumb you live by?
Barrie: If you cannot be happy, then be free. For me, success and happiness are ever evolving and often fleeting. So instead of chasing happiness I chase freedom. I seek to build a life in which I always feel free. 
Plante: Take accountability for my actions. I attempt to never look at any experience, whether personal or work, as a waste of time. Every experience, whether positive or negative, has led me somewhere I did not expect or taught me something I did not know. I truly think every experience is what you make of it, and it's up to you to choose how you react and deal with each encounter. For me, it has helped me grow and become a more understanding and positive person. 
AUArts: What media are you into right now? (a specific book/podcast/film, etc.)?
Barrie: This is not art related, but sensitive people related, and you can't make art without feelings!  I'm currently reading: "Emotional Sensitivity and Intensity" By Imi Lo, highly recommended! I'm also into several podcasts: Esther Perel's "How's Work", Paul Bloom's Open Yale Course PSYC 110, Modern Love, and Business Schooled. I'm also obsessed with Suzanne Saroff who is a Photographer who works with flowers. 
Plante: Lately, I have reemerged my love of drawing and painting. On a recent trip to Australia, I was fortunate enough to attend an exhibit called "Japanese Supernatural", a collection of Avante-Garde folklore and fantasies told through several Japanese artists. I have an extraordinary love for all things folklore, spooky, and historical. I also love a good art history podcast. My favourite currently is "The Art History Babes" narrated by a group of female Art History majors in California. Their subjects include Art History, Feminism and correlating them to current social topics.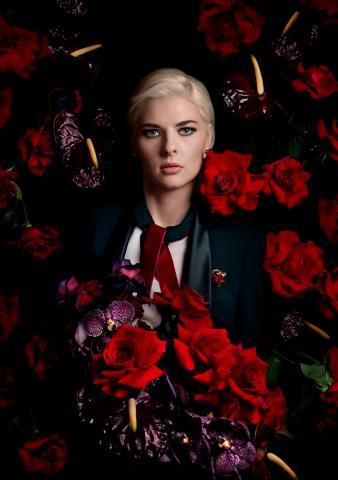 Photo provided by Foxglove
AUArts: When and where were/are you happiest?
Barrie: When I'm following my curiosities without fear, and when I'm with my partner travelling in France. I love being near the sea. Dinard and Saint Malo are my favourite spots. 
Plante: Creating and making art has always provided me with so much pride and enjoyment. As I get older, traveling with my partner has given me a sense of peace and provided some of the happiest times in my life. Experiencing different cultures, stuffing our faces with different foods, and immersing ourselves in what each place has to offer, are all my most cherished memories. These experiences have opened my mind to a different world and filled me with inspiration that I use in my everyday life. 
AUArts: What would you like to be remembered for? 
Barrie: For my character; as someone who was loyal, genuine, (hopefully) inspiring and for my unwavering determination. I'd also like to leave a mark in the floral industry. It's such an exciting time to be a part of it, it's slowly being recognized as a valued form of art.
Plante: For my impact on others. How I've helped or inspired other people to take a risk and push themselves forward. To be remembered for the difference you make in someone else's life whether that be through a piece of art or just being engaging in someone's life, brings meaning to my life.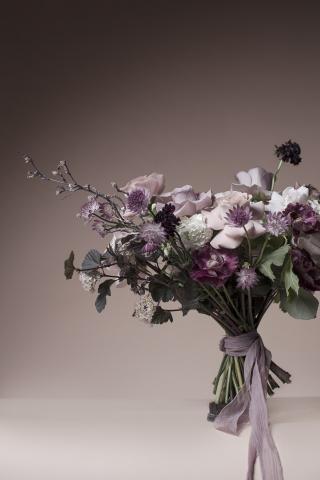 Photo provided by Foxglove
AUArts: Any advice for recent AUArts graduates who are just starting out?
Barrie: Nurture your AUArts connections. Be aware often, being an Artist means being self-employed or running a business, figure out what that's going to look like for you. Always be true to yourself and know that sometimes what you thought success was going to look like, might actually look like something else, and it might be even better than you imagined. Be adaptive, and perceptive, keep learning! Don't wait for inspiration, show up and work hard even when it's nowhere to be found. Take stock of the resources that are available to you and be creative with them. Take care of yourself! 
Plante: Connect with people who inspire you and be willing to take risks. If it makes you uncomfortable, it's usually a good sign. The best opportunities I've had are also the ones that have filled me with a complete sense of terror, but it has made me into a much stronger person. 
AUArts: What's next for Tasha and Lauren? 
Barrie: We just moved into our first brick and mortar studio in Inglewood, so we are looking forward to settling in, and connecting with the neighbourhood. Now that the floral side of our studio is established and thriving, I'd like to revisit my roots, explore my photography more deeply and diverge into some new interests as well. I'd absolutely love to sell some prints and offer floral infused studio portraits out of Foxglove. Stay tuned! 
Plante: We have a lot of exciting things happening. A new studio and with that, new opportunities to explore and we are getting more involved in the Art Community. We have learned so much in the past couple of years and pushed ourselves to do wondrous and scary things. We will take these experiences and continue forging ahead!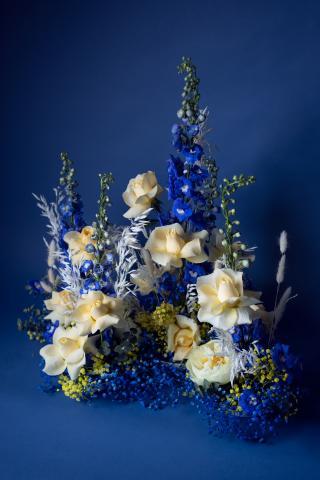 Photo provided by Foxglove
Know an alum you think we should feature? Email alumni@auarts.ca
See Fox Glove Studio's Instagram
Connect