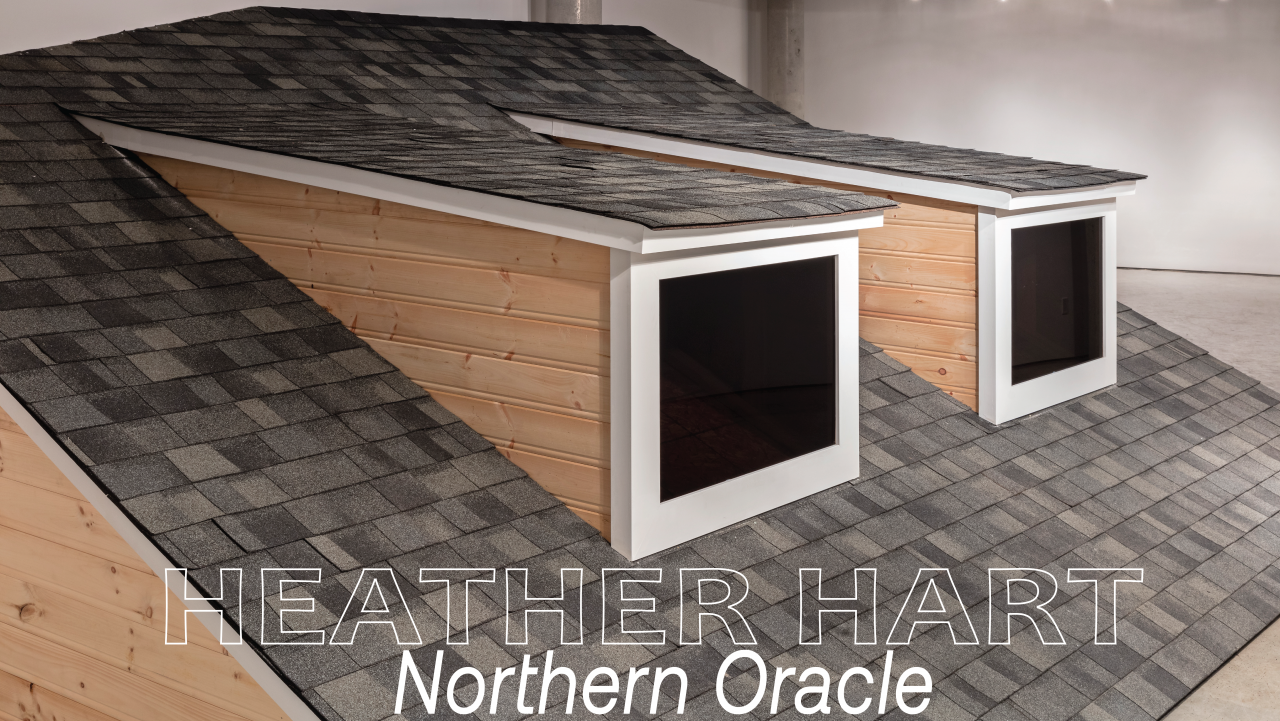 Exhibition
16 Sep 2022 - 26 Nov 2022
GALLERY HOURS
Tues – Fri, 11 – 6 PM
Sat, 12 – 4 PM
Closed on Sundays, Mondays and statutory holidays
Illingworth Kerr Gallery
Northern Oracle
Organized and circulated by Doris McCarthy Gallery University of Toronto Scarborough
Northern Oracle is an ambitious rooftop installation that emerges from the floor of the gallery, and is accompanied by a series of mixed media drawings. Through her work, Heather Hart considers Black histories, access to ownership, taking up physical space, and the significance of having a place to call home. Visitors will be able to access both the rooftop and its floor level attic, while further contemplating and enacting upon the corollary of these vantage points. At the heart of the Oracle, in its attic space, visitors will find a site-specific lounge space to visit, relax and research.
Northern Oracle will provide a performative area, a locale for demonstration of power, influence, and direction where the idiom, "shout it from the rooftop" will be made literal. Throughout the exhibition, the space will be activated by performances, lectures and workshops.
Heather Hart
Heather Hart, based in Brooklyn, is an interdisciplinary artist exploring the power in thresholds, questioning dominant narratives, and creating alternatives to them. She has been awarded grants from Anonymous Was A Woman, the Graham Foundation, Joan Mitchell Foundation, and the Jerome Foundation, NYFA, and Harpo Foundation. Hart co-founded Black Lunch Table in 2005 and has won a Creative Capital award, Wikimedia Foundation grants, an Andrew W. Mellon Foundation grant and an Andy Warhol Foundation of Art grant with that project. Her work has been exhibited at the Queens Museum, Storm King Art Center, The Kohler Art Center, NCMA, Eastern Illinois University, Seattle Art Museum, Brooklyn Museum, and University of Toronto, Scarborough among others. Hart is an Assistant Professor at Mason Gross School for Art + Design, a member of the Black Trustee Alliance for Art Museums, an external advisor for AUC Art Collective, and a trustee at Storm King Art Center. She works with Davidson Gallery in New York and studied at Skowhegan, Whitney ISP, Cornish College of the Arts, Princeton University and received her MFA from Rutgers University. Hart is a 2021-2022 Fellow at the Radcliffe Institute for Advanced Study at Harvard University.
Photo credits to Chelsea Yang-Smith (images 1, 3-9, 11-13, 15-17), and Elyse Bouvier (images 2, 10, 14).