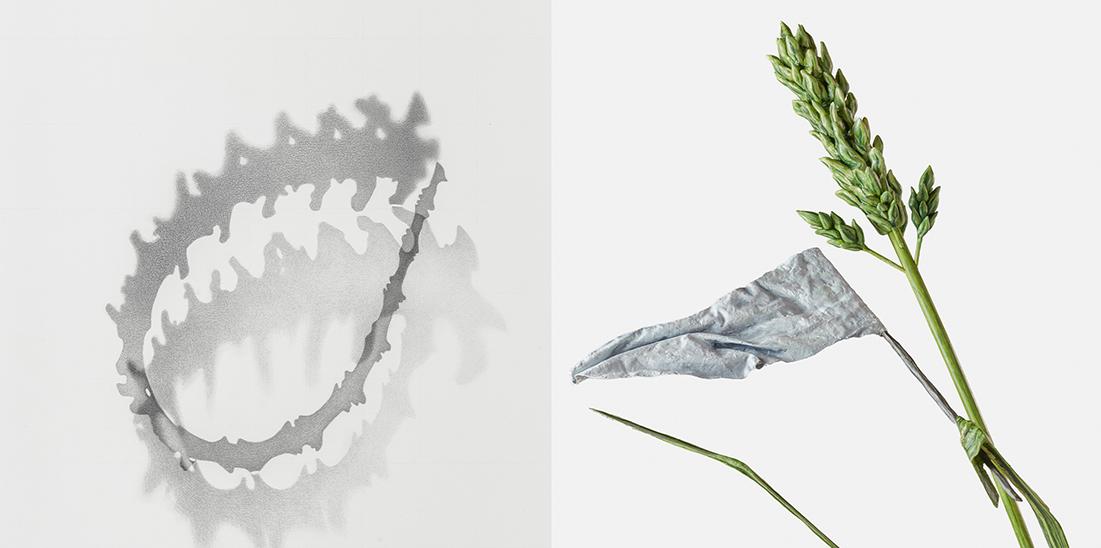 Exhibition
13 Jan 2022 - 19 Mar 2022
Members of the public can book a timed appointment to visit here or by emailing ikg@auarts.ca 
Illingworth Kerr Gallery
The Distance Between
Jude Griebel and Lorraine Simms
The Distance Between evokes the ongoing pressure on species and habitats taking place worldwide. Jude Griebel's hand-constructed sculptural installation and Lorraine Simms' meticulously rendered drawings consider our kinship with animals and explore our broken relationship with nature and the ecosystem. While strikingly different in appearance, both bodies of work share a research-based approach, a strong focus on craft, and a well-informed exploration of the modes of representation and narrative construction present in scientific displays. The two bodies of work present strikingly different aspects of the effects of climate change. While Griebel's pervasive species grow to inhabit monumental proportions, the ghostlike presence of Simms' endangered animals signal their gradual disappearance. These contemplative works perform as meditations on interconnectedness and transformation, and ultimately, care and loss. Presence and absence lie at the core of this exhibition, and while fully implicated, the human animal is felt but not seen, present yet distant.
Jude Griebel
Jude Griebel is a figurative sculptor working between Brooklyn, New York and Bergen, Alberta. He has completed numerous residencies including Pioneer Works, New York; ISCP, New York; The Studios of MASS MoCA, North Adams and HALLE 14 Center for Contemporary Art, Leipzig. Griebel's work has been exhibited internationally at institutions including the Art Gallery of Alberta, Edmonton; the International Museum of Surgical Science, Chicago; the Spinnerei Archiv Massiv, Leipzig and the Tokyo Metropolitan Art Museum. Griebel is a three-time recipient of the Elizabeth Greenshields Foundation Grant and his work is in collections including Arsenal Contemporary Art, Montreal, the Frans Masereel Centrum, Kasterlee and the Volpert Foundation, New York.
Lorraine Simms
Lorraine Simms is a Canadian artist based in Tiohtiá:ke/Montreal, the unceded Indigenous territory of the Kanien'kehá:ka Nation. Lorraine Simms has exhibited her artwork across Canada and in the United States over a career that spans more than 30 years. She has participated in notable residencies, including the Massachusetts Museum of Contemporary Art in North Adams, and the American Museum of Natural History in New York. Simms is the recipient of numerous grants from the Conseil des arts et des letters du Québec and the Canada Council for the Arts. She has held teaching positions at Concordia University and Dawson College in Montreal and curated numerous exhibitions. 

The artists wish to thank the researchers in the Department of Mammology at the American Museum of Natural History for their support for the creation of Simms' project.  Along with gratitude to Pioneer Works in Brooklyn who supported the creation of Griebel's project.
This exhibition is presented in support from Canada Council for the Arts, Alberta Foundation of the Arts, and TD Insurance.
All images courtesy Chelsea Yang-Smith