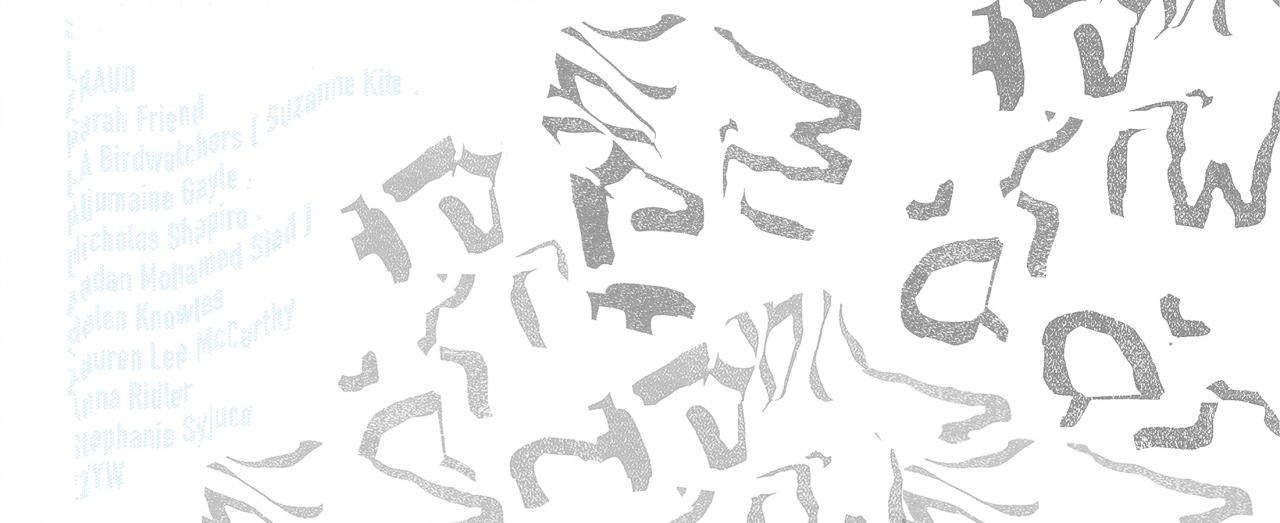 Exhibition
16 Sep 2021 - 20 Nov 2021
CLOSING RECEPTION
Canceled due to public health restrictions.
Illingworth Kerr Gallery
Contingent Systems
Contingent Systems explores critical intersections between creative practice and algorithmic culture.
CURATED BY LISA LIPTON AND ASHLEY SCARLETT 
Contingent Systems explores critical intersections between creative practice and algorithmic culture.  It brings together a collection of works that expose the ways in which creative practice has worked, in both historical and contemporary contexts, to render the algorithmic intelligible, opening space for reflexive critique, meaningful resistance, and imaginative repurposing.
CONTINGENT SYSTEMS responds to recent calls for a demystification of the algorithmic undercurrents of contemporary culture. While in technical terms, algorithms are simply sets of instructions that enable the automated operation of computational technologies and digital media, within the contemporary context they have become 'culture machines'. Working as invisible engines that sort, rank and instrumentalize massive amounts of environmental, biometric and behavioral data, algorithmic technologies are increasingly responsible for enabling and pre-emptively choreographing many of the practices that comprise our everyday lives. While countless scholars have identified the troubling consequences that algorithmic systems pose for racialized, gendered, and laboring subjects, developing strategies of resistance has been complicated by the seeming impossibility of fully grasping or properly resisting algorithmic operations – they are simply too fast, too small, and too expansive for people to engage with directly or comprehend exhaustively. This is deeply concerning given the increasing role that they play in the articulation of everyday life and subjectivity.
This gap in research, paired alongside the pressing need to further develop methods for critiquing, resisting, and reimagining the operation of the algorithmic within contemporary culture, serve as the point of departure for this exhibition. Although scholars have readily identified the challenges that limit algorithmic criticism, CONTINGENT SYSTEMS turns to creative practice in an effort to overcome this impasse. The exhibition features work by 8 artists and collectives whose practice renders the algorithmic intelligible, offering a means of better understanding the technical operations of algorithmic systems, as well as possible strategies for meaningful critique and resistance.
FRAUD (Francisco Gallardo and Audrey Samson) 
Sarah Friend 
LA Birdwatchers (Suzanne Kite, Aljumaine Gayle, Nicholas Shapiro and Ladan Mohamed Siad) 
Helen Knowles 
Lauren Lee McCarthy 
Anna Ridler 
Stephanie Syjuco 
ZZYW 
Public Access Saturdays: Eventbrite Registration 
This exhibition is supported by Canada Council of the Arts,

Rawlinson Faculty Research Investment and supported in part by funding from the Social Sciences and Humanities Research Council.

Event proudly supported by affinity program partner TD Insurance.

Photo credits to Chelsea Yang-Smith (images 1,2, 8, 14, 15, 17, 19, 21, 23-25, 27, 28, 33-35, 37- 41), and Carolina Vasquez-Lazo (images 3-7, 9- 13, 16, 18, 20, 22, 26, 29-32, 36)
Images 1,2, 8, 14, 15, 17, 19, 21, 23-25, 27, 28, 33-35, 37- 41 courtesy of Chelsea Yang-Smith

Images 1,2, 8, 14, 15, 17, 19, 21, 23-25, 27, 28, 33-35, 37- 41 courtesy of Chelsea Yang-Smith

Images 3-7, 9- 13, 16, 18, 20, 22, 26, 29-32, 36 courtesy of Carolina Vasquez-Lazo

Images 3-7, 9- 13, 16, 18, 20, 22, 26, 29-32, 36 courtesy of Carolina Vasquez-Lazo

Images 3-7, 9- 13, 16, 18, 20, 22, 26, 29-32, 36 courtesy of Carolina Vasquez-Lazo

Images 3-7, 9- 13, 16, 18, 20, 22, 26, 29-32, 36 courtesy of Carolina Vasquez-Lazo

Images 3-7, 9- 13, 16, 18, 20, 22, 26, 29-32, 36 courtesy of Carolina Vasquez-Lazo

Images 1,2, 8, 14, 15, 17, 19, 21, 23-25, 27, 28, 33-35, 37- 41 courtesy of Chelsea Yang-Smith

Images 3-7, 9- 13, 16, 18, 20, 22, 26, 29-32, 36 courtesy of Carolina Vasquez-Lazo

Images 3-7, 9- 13, 16, 18, 20, 22, 26, 29-32, 36 courtesy of Carolina Vasquez-Lazo

Images 3-7, 9- 13, 16, 18, 20, 22, 26, 29-32, 36 courtesy of Carolina Vasquez-Lazo

Images 3-7, 9- 13, 16, 18, 20, 22, 26, 29-32, 36 courtesy of Carolina Vasquez-Lazo

Images 3-7, 9- 13, 16, 18, 20, 22, 26, 29-32, 36 courtesy of Carolina Vasquez-Lazo

Images 1,2, 8, 14, 15, 17, 19, 21, 23-25, 27, 28, 33-35, 37- 41 courtesy of Chelsea Yang-Smith

Images 1,2, 8, 14, 15, 17, 19, 21, 23-25, 27, 28, 33-35, 37- 41 courtesy of Chelsea Yang-Smith

Images 3-7, 9- 13, 16, 18, 20, 22, 26, 29-32, 36 courtesy of Carolina Vasquez-Lazo

Images 1,2, 8, 14, 15, 17, 19, 21, 23-25, 27, 28, 33-35, 37- 41 courtesy of Chelsea Yang-Smith

Images 3-7, 9- 13, 16, 18, 20, 22, 26, 29-32, 36 courtesy of Carolina Vasquez-Lazo

Images 1,2, 8, 14, 15, 17, 19, 21, 23-25, 27, 28, 33-35, 37- 41 courtesy of Chelsea Yang-Smith

Images 3-7, 9- 13, 16, 18, 20, 22, 26, 29-32, 36 courtesy of Carolina Vasquez-Lazo

Images 1,2, 8, 14, 15, 17, 19, 21, 23-25, 27, 28, 33-35, 37- 41 courtesy of Chelsea Yang-Smith

Images 3-7, 9- 13, 16, 18, 20, 22, 26, 29-32, 36 courtesy of Carolina Vasquez-Lazo

Images 1,2, 8, 14, 15, 17, 19, 21, 23-25, 27, 28, 33-35, 37- 41 courtesy of Chelsea Yang-Smith

Images 1,2, 8, 14, 15, 17, 19, 21, 23-25, 27, 28, 33-35, 37- 41 courtesy of Chelsea Yang-Smith

Images 1,2, 8, 14, 15, 17, 19, 21, 23-25, 27, 28, 33-35, 37- 41 courtesy of Chelsea Yang-Smith

Images 3-7, 9- 13, 16, 18, 20, 22, 26, 29-32, 36 courtesy of Carolina Vasquez-Lazo

Images 1,2, 8, 14, 15, 17, 19, 21, 23-25, 27, 28, 33-35, 37- 41 courtesy of Chelsea Yang-Smith

Images 1,2, 8, 14, 15, 17, 19, 21, 23-25, 27, 28, 33-35, 37- 41 courtesy of Chelsea Yang-Smith

Images 3-7, 9- 13, 16, 18, 20, 22, 26, 29-32, 36 courtesy of Carolina Vasquez-Lazo

Images 3-7, 9- 13, 16, 18, 20, 22, 26, 29-32, 36 courtesy of Carolina Vasquez-Lazo

Images 3-7, 9- 13, 16, 18, 20, 22, 26, 29-32, 36 courtesy of Carolina Vasquez-Lazo

Images 3-7, 9- 13, 16, 18, 20, 22, 26, 29-32, 36 courtesy of Carolina Vasquez-Lazo

Images 1,2, 8, 14, 15, 17, 19, 21, 23-25, 27, 28, 33-35, 37- 41 courtesy of Chelsea Yang-Smith

Images 1,2, 8, 14, 15, 17, 19, 21, 23-25, 27, 28, 33-35, 37- 41 courtesy of Chelsea Yang-Smith

Images 1,2, 8, 14, 15, 17, 19, 21, 23-25, 27, 28, 33-35, 37- 41 courtesy of Chelsea Yang-Smith

Images 3-7, 9- 13, 16, 18, 20, 22, 26, 29-32, 36 courtesy of Carolina Vasquez-Lazo

Images 1,2, 8, 14, 15, 17, 19, 21, 23-25, 27, 28, 33-35, 37- 41 courtesy of Chelsea Yang-Smith

Images 1,2, 8, 14, 15, 17, 19, 21, 23-25, 27, 28, 33-35, 37- 41 courtesy of Chelsea Yang-Smith

Images 1,2, 8, 14, 15, 17, 19, 21, 23-25, 27, 28, 33-35, 37- 41 courtesy of Chelsea Yang-Smith

Images 1,2, 8, 14, 15, 17, 19, 21, 23-25, 27, 28, 33-35, 37- 41 courtesy of Chelsea Yang-Smith

Images 1,2, 8, 14, 15, 17, 19, 21, 23-25, 27, 28, 33-35, 37- 41 courtesy of Chelsea Yang-Smith